Club Caribe and Garza Blanca Residence Club are luxury timeshare opportunities in Mexico. These two high-end vacation clubs are actually part of the same company chain, Tafer Hotels & Resorts, meaning that when you become a member in one, you will also have access to using the other. Club Caribe is a luxury membership at the Villa del Palmar Cancun resort on the Caribbean coast of Mexico, while Garza Blanca Residence Club is a vacation club located at the 4 Diamond Garza Blanca Preserve in Puerto Vallarta on the Pacific coast.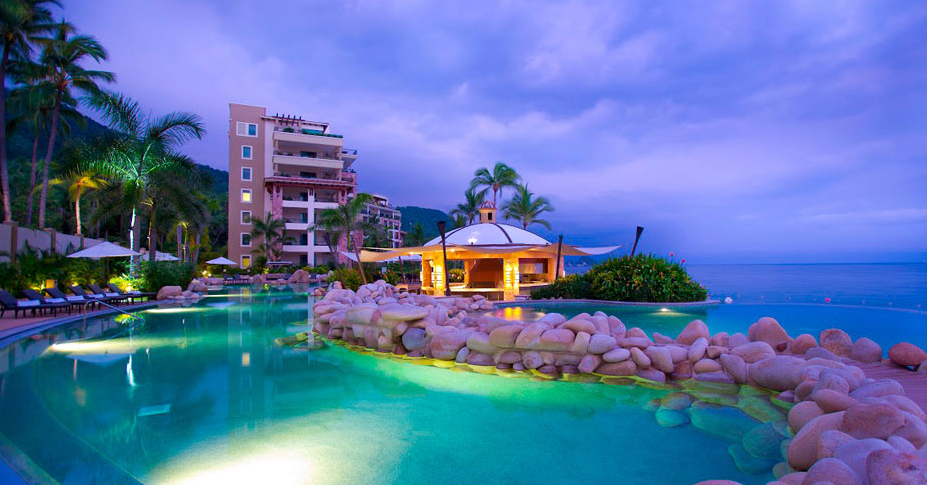 Club Caribe and Garza Blanca Residence Club by Tafer
Club Caribe and Garza Blanca Residence Club currently comprise the vacation ownership options at Tafer Hotels & Resorts, with projects in the pipeline for other destinations in Mexico, such as Riviera Maya. Both Club Caribe and Garza Blanca Residence Club work on a points system which are interchangeable at each of the resorts. For example, if you purchase membership at Garza Blanca Residence Club, you can use your points to reserve accommodation at Club Caribe's resort in Cancun, Villa del Palmar Cancun and visa versa.
The advantage of Club Caribe and Garza Blanca Residence Club's points based system is that you can use those points flexibly, banking points and borrowing them to cover longer vacations or stays in more luxurious suites. Club Caribe and Garza Blanca Residence Club points can also be used to pay for all inclusive meal plans and special services at the hotel like a private chef, romantic details in your room and spa services.
Club Caribe
When you purchase timeshare membership at Club Caribe, your home resort is Villa del Palmar Cancun, on Mexico's Yucatan peninsula, one of the most breathtaking beach vacation destinations in Mexico. Villa del Palmar Cancun is a 5 star resort located in an exclusive area in Cancun on Mujeres Beach, directly opposite Isla Mujeres. The resort facilities include 5 fine dining restaurants and bars, 5 heated pools, a kids club, luxury spa, gym, deli and more, with stunning, elegantly designed accommodations. Staying at Villa del Palmar Cancun with your Club Caribe membership also means that your internet connection is included and other concierge services available to you.
Garza Blanca Residence Club
At Garza Blanca Residence Club, you get to stay at the luxurious 4 Diamond resort of Garza Blanca Preserve which is nestled against a lush jungle backdrop on the beach in Puerto Vallarta. This resort is steeped in opulence and lavish quality, boasting too the opportunity for Garza Blanca Residence Club members to use their points to stay at the brand new Hotel Mousai for guests aged over 16 years old. Garza Blanca Preserve offers members access to 3 delicious high end restaurants and one gourmet snack bar, a cutting edge spa of grand proportions, incredible suites with guaranteed ocean views that will take your breath away and first-class service.