The chic and trendy can rejoice; beach vacations in Puerto Vallarta have just raised the bar with their new offering. Hotel Mousai, on the Garza Blanca Preserve, is a stunning hotel which caters to those aged 16 and above. Here's everything you need to know about the new addition to the Garza Blanca Residence clubs collection in our latest review.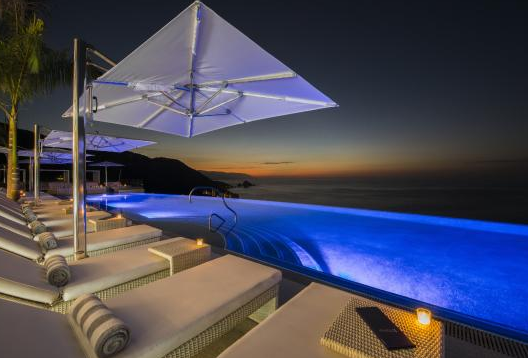 Review of Hotel Mousai at the Beach in Puerto Vallarta
Puerto Vallarta has been called one of the world's friendliest cities, but this renowned beach destination is also known for its stunning beaches, great clubs, and gourmet restaurants (as well as some of the best resorts and hotels in Mexico). The new Hotel Mousai is a trendy addition to this scene which has the added benefit of being an adult only residence.
Review of Hotel Mousai's Facilities
The facilities of the Hotel Mousai are brilliant, but one of the biggest bonuses to staying here is that you also have access to the facilities of Garza Blanca Preserve too. Hotel Mousai has, however, its own exclusive area on the beach, a rooftop infinity pool which is served by a great pool bar with snacks, a sushi restaurant and a terrace restaurant for breakfast and lunch.!
Spa Imagine at Hotel Mousai is a haven of sophistication and relaxation that will blow you away! The spa has a great view of Banderas Bay which you can enjoy while soaking in the hydrotherapy circuit. There are couples suites, bridal chambers and treatment rooms which are specialized for the treatments that take place there. There are also indoor and outdoor fitness and health facilities to ensure that you needn't break your routine while staying at the Hotel Mousai!
Review of Hotel Mousai's Suites
Hotel Mousai offers beautiful suites which are designed and decorated with impeccable style, taste and elegance. Each boasts a private terrace with a jetted tub, perfect for you and your spouse to enjoy champagne at sunset, and really excellent linen. The little things are really what make the rooms special!
Review of the Cuisine at Hotel Mousai
Hotel Mousai offers fine dining experiences that are truly out of this world; while staying at the hotel you do, of course, have access to any of the restaurants on the preserve, but those in the hotel itself definitely warrant your immediate attention. The Terrace offers breakfast and lunch with an a la carte menu while The Rooftop serves playful gourmet snacks to those enjoying the sun in the pool. For those who want a truly sophisticated experience, though, the Hiroshi pan-Asian restaurant is a must. At Garza Blanca, Hotel Mousai guests can also enjoy Blanca Blue Restaurant with its amazing wine cellar, BocaDos STK steakhouse and Aquazul snack bar.