Why choose Puerto Vallarta for destination weddings?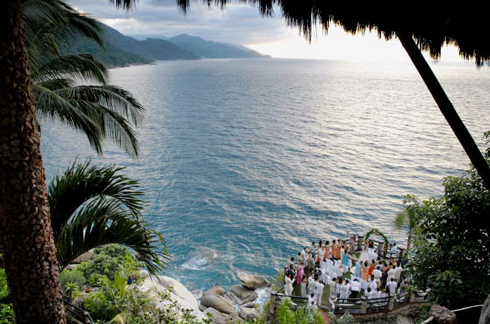 We know that when you think about a destination wedding what you want is stunning scenery, the right kind of weather, and a decent array of activities and options to keep your guests happy on the run up to the big day. Well Puerto Vallarta is a godsend to the stressed bride and groom. Just imagine Puerto Vallarta for a destination wedding: sandy beaches, both white and yellow, warm crystalline waters, and some of the best scenery in the immediate area all join together to make a top notch wedding destination!
Have you seen the Scenery?
It would be really hard to deny that Puerto Vallarta has some of the most stunning scenery imaginable! Banderas Bay in particular is a dream destination wedding vacation for many. The pristine waters here catch the sunset, which is captured perfectly by the curve of the bay, and the weather is generally warm and sunny. Or, if you'd prefer, Puerto Vallarta has one incredibly lovely white sand beach, Garza Blanca Beach which overlooks the Los Arcos Rock formation; a perfect place for some really breath-taking wedding photos!
Puerto Vallarta's Culture, History, Architecture
Puerto Vallarta is not only an incredibly beautiful city for a destination wedding, the Malecon and Old Town areas are considered to be particularly beautiful, but one that is full of impressive architecture, historic buildings, and art. There are not only public forms of art for you and your guests to enjoy, such as the sculptures that line the Malecon, but galleries and art stores too!
Natural and Extravagant Attractions
When it comes to the perfect destination wedding we know that it's key to make sure that your guests won't be bored either before or after the big day! Which is why we heartily recommend Puerto Vallarta for destination weddings. There won't ever be a shortage of things to do. You can arrange a whale watching tour for the wedding party, or simply head out to some of the towns fine restaurants, cocktail bars, and clubs for a celebration befitting the happiest day of your life. Whatever takes your fancy Puerto Vallarta will be sure to give you a dream wedding day!